Industrial Silicone Hose – Industrial Hose Supply
High quality silicone industrial hose is crucial for many applications and industries. We provide silicone hoses and tubing from the industry's top manufacturers, including NovaFlex, Sun Flow, and Pacific Echo.
Silicone is a substance made when you mix silica (found in beach sand, quartz, and other materials) with carbons and heat the mixture in an industrial furnace. The result is a substance that is between rubber and plastic and shares qualities of both. It is non-stick, non-staining, and offers excellent chemical and corrosion resistance.
Industrial silicone hoses can also withstand vacuum pressures and more extreme temperatures compared to rubber. Therefore, where rubber hoses are impractical, silicone is often the next option. It offers superior flexibility, resists UV rays and vibration, and also offers long life cycles for many applications. As an example, you can find silicone tubing in many coffee makers because it can help suction water inside the machine, stand up to high temperatures, doesn't stain, and doesn't leach toxins into your morning cup of joe.
Silicone industrial hoses are frequently used in the medical industry where there are extreme guidelines for cleanliness and non-toxicity. Silicone tubing is often used for catheters and other medical uses. In addition, silicone hoses are often found in food production and agricultural applications because they can be food-safe and easy to clean.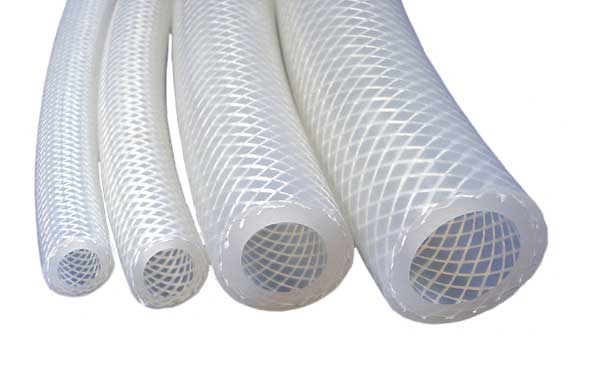 Silicone hoses aren't typically suited for the oil and gas or petroleum industries. This is because silicone is permeable for fuel and oil, allowing molecules of these substances to penetrate the walls of the hose.
Wholesale Distributor of Industrial Hose – J.W. Roberts Co.
As a leading distributor for industrial hose, we have the answer for all your silicone hose needs. We maintain a large inventory of industrial hoses of all types, sizes, and materials. We are confident we have hose products to suit your exact needs, no matter the industry or application. Because we keep a wide range of industrial hose in stock, you can count on us for speedy delivery for your orders. Our team ships hose out quickly to locations throughout Texas, Louisiana, Arkansas, and Oklahoma.
We are dedicated to excellence at J.W. Roberts Co.. This means we not only work with the highest quality industrial hose manufacturers, but we also go the extra mile for extraordinary customer service. Our team includes industrial application consultants to help you find the ideal hose for your needs. If you're not sure exactly the type of hose you require, our experts can discuss your application and operating conditions to determine the right type of industrial hose for your needs. For instance, silicone hose may be best suited for agricultural applications like milking machines or in medical equipment, while other materials may be better suited for heavier-duty industrial applications.
Contact us now to discuss your industrial hose needs with our specialists and find the right hose for the job.