Ducting for Industrial Applications
We offer a huge selection of high quality industrial and commercial ducting products. We are a wholesale distributor for trusted names in the industry, including NovaFlex, AmFlex, and Sun Flow. Our team is here to help you find the right ducting for your application.
Flexible ducting is often made of the same materials as industrial hoses. However, ducting is typically much larger in diameter and used for transporting air, dust, and fumes. In most cases, the ducting will feature metal throughout the ducting to provide added support, reduce the risk of kinking, and also to improve flexibility.
Industrial ducting must be lightweight and ultra-flexible. It often snakes its way through large buildings and other spaces. One of the most common applications for ducting is in air movement applications, such as air conditioning, ventilation, and exhausting hot, humid air from indoor environments. It's also necessary for exhausting fumes from many industrial facilities. For instance, paint facilities, welding areas, and manufacturing facilities all rely on high quality ducting to keep interior air safe and healthy. In addition to moving air and fumes, ducting also plays an important role in transporting things like dust, wood chips, plastic pellets, and more through various systems.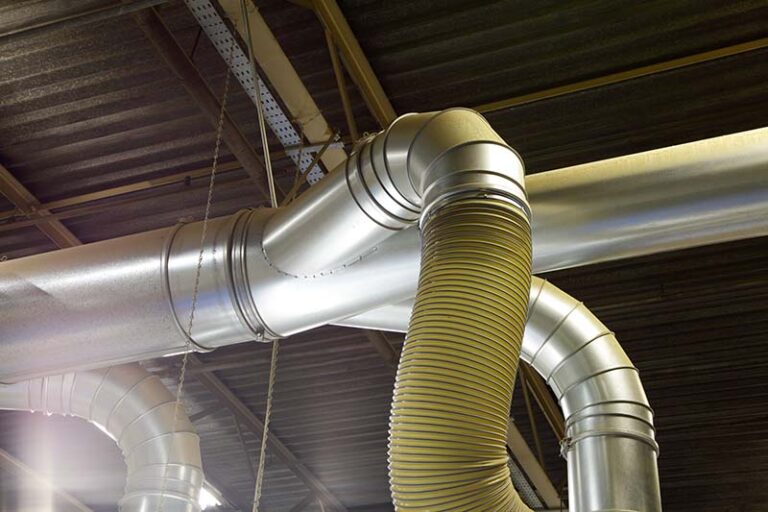 Because ducting plays such a significant role in health and safety for many industrial applications, it is crucial to find the right products for the job. This includes considering the right size and material. When ordering ducting, it's important to consider both inner diameter and length. Many ducting products can compress into small lengths due to their flexibility. Therefore, length is generally measured with the ducting stretched to its full extent. Inner diameter also affects performance. Ducting that is too large in diameter can put undue strain on industrial and commercial HVAC systems. Products that are too narrow can negatively impact effectiveness for systems like ventilation and exhaust.
Industrial Ducting Solutions from J.W. Roberts Co.
Finding the right ducting is simple when you work with our experts at J.W. Roberts Co.. We work with customers throughout Texas, Louisiana, Arkansas, and Oklahoma to find the ideal products for their requirements.
We manage a large inventory of ducting products in our warehouse to provide fast delivery for your ducting needs. We are proud to offer some of the quickest timelines around for receiving ducting products and accessories.
Since 1973, we've been providing high quality industrial hose and ducting products and related accessories. Our team is here to help you find the ideal product for your application. If you're not sure what ducting is best, our experts are standing by to discuss your needs and match you with the perfect ducting product. We offer expertise on ducting size, material, composition, and more.
Contact us now to learn more and get high quality ducting products.