Types of Industrial Hose Construction
Industrial hose can be made of many different products such as silicone, rubber, PVC, metal and more. Different applications have different needs depending on the material passing through the hosing. Temperature, weight, pressure, and the type of material needing transfer is considered when choosing an industrial hose. We supply a wide range of industrial hoses to provide you with the perfect option for your application.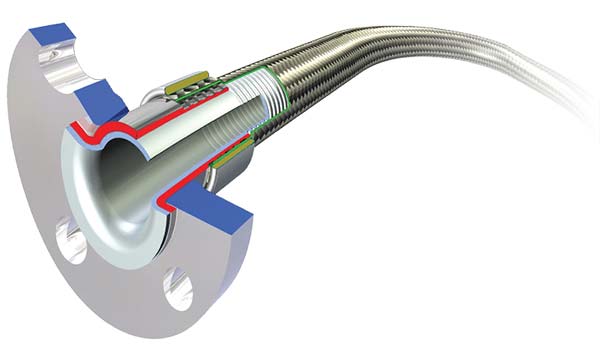 Composite hose is generally made of several different materials, typically multiple layers of thermoplastics, fabrics, and metal wires spiraled inside and out for added flexibility. These industrial hoses are often easier to bend and are chemically resistant, making them ideal for chemical industries.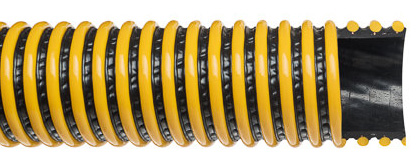 Industrial PVC hose is a common type of hose used for a wide variety of applications, including for water, chemicals, waste, food, and some types of gases. PVC is a durable material, making it a great solution for many heavy-duty applications. It resists corrosion and erosion and is watertight. However, PVC degrades at higher temperatures, which makes it unsuitable for high temperature applications.
Rubber hoses are incredibly flexible, readily available, and stand up to vibration. They are great for many uses, including hydraulic lines that may need to snake through a maze of parts and components. These are also easy to replace as needed and are an inexpensive industrial hose option. It's important to keep in mind that rubber hoses may not be right for applications with high pressures or extreme high or low temperatures, which can cause the hose to degrade quicker.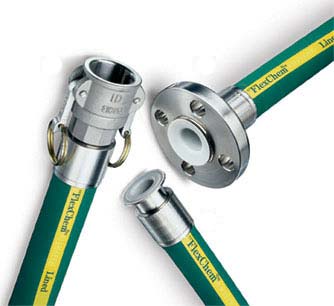 Polytetrafluoroethylene (PTFE), more commonly known by the brand name Teflon®, is a tough rubber-like material used for many types of industrial hoses. PTFE hoses resist heat, corrosion, and erosion and can handle a wide range of materials, from gases to chemicals. These hoses can be found throughout vehicles for gas, antifreeze, and more and are frequently found in industrial applications for transferring chemicals, hydraulic fluid, and more.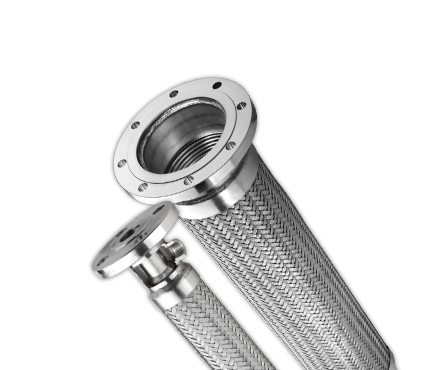 Flexible industrial metal hoses are an extremely durable option. They are typically made of stainless steel, though other metals, like bronze and galvanized steel, may be used. While less flexible than some other hose materials, these hoses can withstand high pressures, extreme heat, cryogenic temperatures, fire, and much more. They aren't susceptible to permeation, making them great for chemical and gas applications. Metal hoses also help reduce overbending and don't generally collapse with vacuum pressure.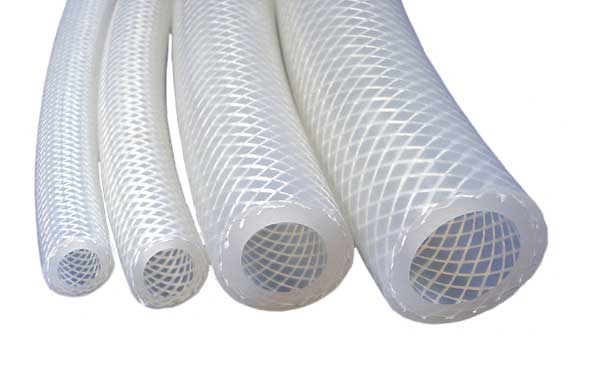 Silicone is a colorless and odorless rubber-like material with properties that makes it an attractive material for industrial hoses. Silicone hoses are frequently used in food, medical, construction, and power generation applications. These hoses are insulating, tear-resistant, UV and infrared radiation resistant and weatherproof. They can withstand high and low temperatures as well as vibration and resist chemical reactions. Silicone breaks down when in contact with oil, so they are not ideal for oil and gas applications. They are also susceptible to permeability, which is another property that may make them unsuitable for some applications.
As the South's leader in industrial hose distribution, our experts at J.W. Roberts Co. offer expertise in industrial hose applications. Our team can help you determine the right type of industrial hose for your needs and supply products from top manufacturers for durability and reliability.
We are here to help you with your material transfer needs whether it is liquid, dry materials, corrosive materials, or simply air transfer that you need to move. We guarantee our products and only carry the best of the best in industrial hoses. We warehouse products from major companies such as: Nova Flex, Sun Flow, Nova Uni-Chem, Hose Master and Pacific Echo.
Contact us now to discuss your industrial hose needs with our specialists.