Industrial Hose for Petroleum Applications – Suction, Transfer & Discharge
Strong, reliable industrial hose solutions are essential for the petroleum industry. We are here to provide high quality petroleum hose products to suit a wide range of applications. As a leading industrial hose supplier, we are proud to provide industrial hoses and hose accessories from world-class manufacturers, including PureFlex, NovaFlex, and Hose Master. Our team is here to serve you and help you find the safest, most practical solutions for petroleum suction, transfer, and discharge operations.
Petroleum industrial hoses are necessary for many different applications in the petroleum industry. Hoses transfer petroleum products for things like oil refining, fuel transfer, plastics manufacturing, and so much more. You can find industrial hoses in gasoline pumps, manufacturing facilities, oilfields, and many other areas.
Finding the right petroleum hose for your needs depends on many specifics of your application, such as temperature, pressure, and the exact petroleum product being transferred. In most cases, petroleum industrial hoses are made from rubbers and plastics like PVC, though there are many types of industrial hoses to choose from based on your exact needs.
When it comes to hoses in the petroleum industry, it's also important to consider any applicable standards and regulations. For instance, RMA standards for oil resistance in rubber hoses or API standards for hose quality and performance. Choosing lightweight, flexible hoses for your applications can also ensure safe, easy handling for personnel to get the job done properly.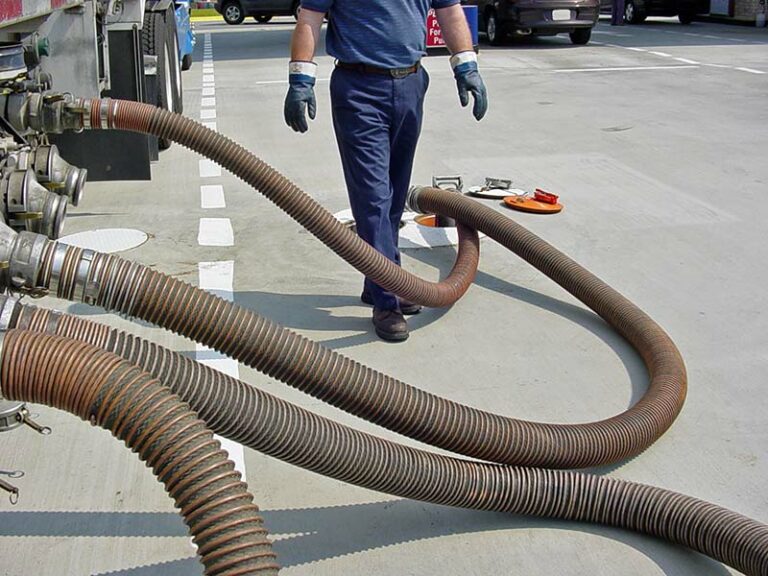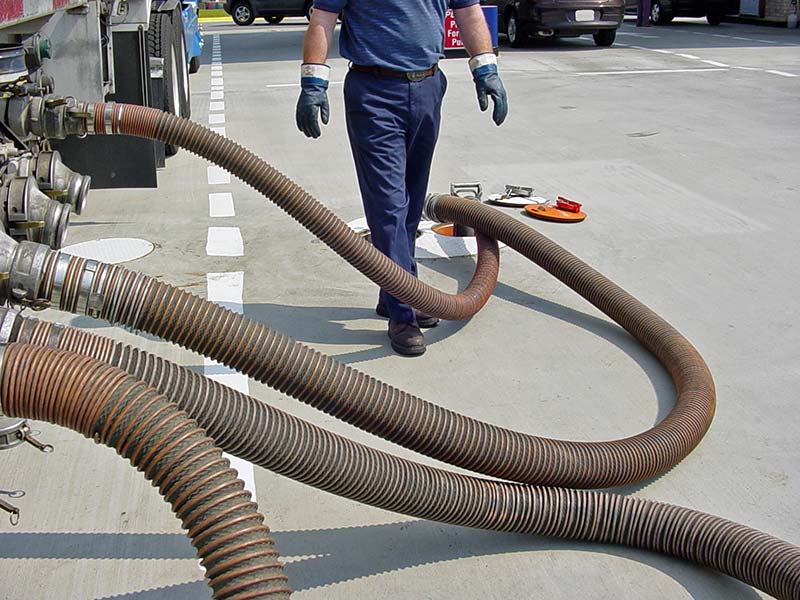 Dependable industrial hose products help ensure safety and efficiency for a variety of petroleum applications. Leaks, spills, or other hose failures can have devastating effects for human health, the environment, and your operations and revenue. Petroleum hoses must often be resistant to weather, gas permeation, abrasion, extreme temperatures, and more. Selecting high quality products for petroleum hose assemblies helps give peace of mind against accidents for everything from refueling applications to petroleum refining efforts.
Industrial Hose For Suction Transfer & Discharge Applications
The petroleum industry offers unique challenges for any industrial hose product. Fortunately, our experts are here to help you solve those challenges and find superior industrial hose products. Our application specialists get to know the specifics of the job to recommend hoses and hose accessories suited for your needs. We work with premium manufacturers to ensure you receive the highest quality product for safety and reliable operations.
We serve customers throughout Texas, Louisiana, Arkansas, and Oklahoma. Our team is available 24/7 to discuss your industrial hose needs and identify quality products for your petroleum suction, transfer, and discharge applications.
As a leading industrial hose distributor, we offer quality products, affordable prices, and fast shipping to provide superior service at every turn. We stock a large inventory of industrial hoses in our warehouse and can provide rapid order processing and shipping, so you get your industrial hose as soon as possible for your most critical requirements.
Contact our experts at J.W. Roberts Co. now to get industrial hoses for your petroleum applications.