Convoluted-SS Braided PTFE Hose for Industrial Hose Use
When you need the toughest industrial hose for your application, our team has solutions for you. We supply convoluted stainless steel braided PTFE hose for a huge range of purposes. Our experts can help you find industrial hose options from top brands like Pacific Echo, PureFlex, and more. Get quality hoses, competitive prices, and fast delivery for your needs.
PTFE convoluted SS braided hose is incredibly strong, flexible, and ready for extreme wear in most industrial hose applications. Interior walls are made from PTFE, also known as teflon, to provide hoses that resist corrosion, extreme temperatures, and age-related degradation for long-lasting, durable hose requirements. These hoses are able to transfer a myriad of different products while providing protection from failures and environmental releases.
Convoluted industrial hoses offer added flexibility for improved bend radius. They utilize patterned depressions in the teflon inner tubing to allow for tighter bending with lower risk of kinking, similar to how an articulated (or "bendy) straw works. Paired with ultra-strong stainless steel braided coverings, these industrial hoses can withstand service in even the harshest conditions and environments.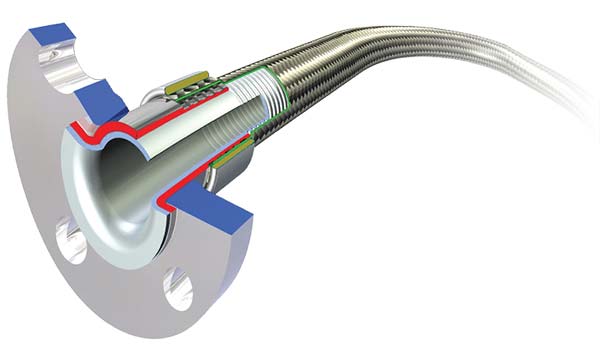 Stainless steel braided outer layers help protect the PTFE hose from wear to improve life expectancies and pressure ratings. Stainless steel coverings also improve wear resistance from vibration, flex fatigue, high temperatures, and more. PTFE convoluted stainless steel braided hose offers even more versatility and flexibility than smooth bore PTFE hose options.
You can find convoluted PTFE hoses with stainless steel braided outer layers in a wide variety of applications. These can be used for chemical transfer, food and beverage transfer, and more.
Huge Selection of Industrial PTFE Hose Inventory
Need PTFE convoluted SS braided hoses? We have a large selection in stock at our warehouse at all times. Our team is here to help find the perfect hose products for your needs. Because we keep a large inventory of industrial hose, we provide expeditious delivery so you can install or replace your industrial hose as soon as possible. We serve customers throughout Texas, Louisiana, Arkansas, and Oklahoma and are a distributor for the industry's most trusted manufacturers.
In addition to being a leading wholesale distributor of industrial hose, we also provide guidance and support to help you find the ideal industrial hose products for your needs. Our experts can help you find the right hose for your needs, whether you're looking for PTFE, rubber, or metal options. Our goal is to provide you with outstanding service at every step of the way. We even have application experts on staff to help you with all your hose and hose accessory requirements. We can take a consultative approach to find and supply the hose you need for efficient, cost-effective operations.
Call our team at J.W. Roberts today for all your industrial hose needs.