Spiral Wound Gaskets for Industrial Hose Applications & Hose Accessories
Getting high quality spiral wound gaskets for industrial hose assemblies is as simple as giving us a call. We are confident we can find the right gasket products for your requirements. We supply high quality products from DONIT gaskets and other top-class manufacturers and provide affordable pricing, streamlined ordering, and fast delivery timelines.
Spiral wound gaskets are a type of ultra-strong semi-metallic gasket. They are made of metal strips wound with soft fillers and often feature inner and outer rings for added structural stability. The metal strip provides strength while the filler helps provide the leak tight seal for your industrial hose application.
Metal strips in spiral wound gaskets can be made of many different metals, including:
Stainless steel
Hastelloys
Monel
Titanium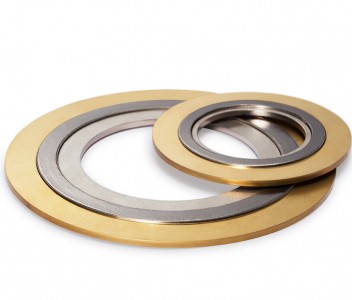 The fillers in spiral wound gaskets can also vary, though common materials include:
Flexible graphite
PTFE
Mica
Created in 1912, these gaskets can withstand many industrial applications, including those with high temperatures, high pressures, corrosives, and fluctuations in temperature and pressure. They became even more popular in the 1990s after regulations began limiting asbestos products, commonly found in industrial gaskets. Spiral wound gaskets became the most common replacement for asbestos gaskets because they stand up to even the harshest conditions and are one of the most reliable gasket options available.
Spiral wound gaskets offer incredible resistance to temperature, pressure, corrosion, and blow outs. They are commonly found in petrochemical, oil and gas, and other hazardous applications due to their reliable seal to help improve safety and reduce the risk of leaks. Therefore, while spiral wound gaskets are frequently more expensive than other options, they are necessary for many applications and provide durability, reliability, and longevity for industrial hose applications.
Industrial Gasket Supplier
When you need durable gasket options for industrial hose assemblies, you can count on our team at J.W. Roberts Co.. We are a distributor for some of the world's finest gasket manufacturers, including DONIT gaskets. We serve customers throughout Texas, Louisiana, Arkansas, and Oklahoma to solve even the most complex sealing challenges.
Our team offers guidance and expertise to help you find the right gasket for the job. Whether you need PTFE gaskets or require more heavy-duty spiral wound options, we can help you choose the right product for your needs. Our industrial hose application experts can help you determine the right type of material and filler in spiral wound gaskets based on your application. You get peace of mind when our specialists help you select high quality industrial gaskets for hose assemblies.
In addition to excellent service, product quality, and prices, we also offer speedy delivery for all your gasket needs. We warehouse and ship a large range of industrial gaskets, which means we can send gaskets to your facility quickly and without delay. In some cases, we can even ship out the gasket you need the same day you place the order! We are here to provide swift solutions whether you need spiral wound gaskets for new assemblies or to replace worn out gaskets.
Contact us now to discuss your sealing needs with our specialists and order spiral wound gaskets.