Composite Hose for Industrial Hose Applications
When you need cost-effective, superior quality composite industrial hoses, choose our team for your needs. We are a leading wholesale distributor of industrial hoses and offer heavy-duty products from first-class manufacturers. We can help you find industrial hose solutions appropriate for your applications and requirements.
Composite hoses have a different construction than that of other types of industrial hoses. Composite hoses are made of multiple layers of thermoplastics with an inner and outer metal wire helix for stability. The layers of thermoplastics are held together by pressure from the inner and outer metal coils. This makes them incredibly tough, long-lasting, and safe.
Industrial composite hoses are great for high pressure uses and are versatile enough to be used for both suction and discharge hoses. Composite hoses have a high burst pressure and elevated safety ratings. They are incredibly adaptable for a wide range of uses and are lightweight and inexpensive while resisting corrosion and chemicals.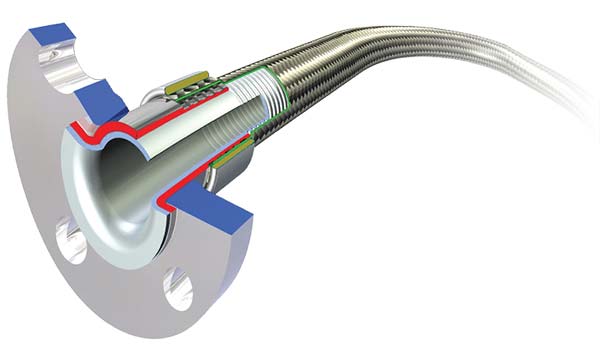 Composite industrial hoses resist leaks, making them a popular option for marine, oil and gas, chemical, and other applications for transferring potentially hazardous substances. The key with composite hoses is that they utilize multiple layers of thermoplastics. That means a leak must infiltrate several layers to reach the outer layer. Not only does this help prevent leaks, it also helps increase the likelihood of catching leaks and repairing the hose before the substance escapes the hose. Another great safety feature of composite hoses is that when failure occurs, these hoses generally collapse rather than burst.
When compensation for vibration is needed in industrial applications, composite hose is the product choice for most. It allows for a flexible connection that can overcome most situations of movement due to vibration or any unpredicted alignment issues during transfer applications.
Find the Right Composite Industrial Hose with Our Team
Finding the right industrial hose is simple when you work with our specialists at J.W. Roberts Co.. We take a consultative approach to identifying your needs and choosing the ideal hose product for your requirements. As a hose supplier dedicated to quality, we provide products from some of the most reputable names in the industry, including NovaFlex, PureFlex, and Insulflex.
We warehouse a variety of different types of commercial and industrial hoses for a myriad of uses, such as suction, discharge, and material transfer. We are proud to offer some of the fastest delivery options around for your industrial hose needs because we keep a constant stock of high quality hose and hose accessory products.
If you are unsure of which composite or other type of industrial hose you need, call our expert consultants at J.W. Roberts Co.. We get to know your application and requirements to guide you in the right direction and find practical hose products for your needs. Our team offers expertise for finding and supplying the right industrial hose for the job.
Contact us now to learn more about the products we supply and find the right hose for your application.