Industrial Hose Accessories | Clamps, Crimps, Sleeves & More
We make hose assembly easy. We supply some of the highest rated industrial hose accessories in the industry, including from top brand names like Insulflex and Stainless Hose Fittings. Our team is here to help you find the exact solutions you need for safe, secure, and long-lasting industrial hose assemblies.
Hose accessories are just as important as the industrial hose itself. Clamps, crimp sleeves, and ferries are required for attaching hose fittings. Thermal protection hose sleeves offer added protection against heat, flames, abrasion, and more. Low quality or incorrect hose accessories can make a huge difference for your assembly, even increasing the risk for leaks, bursts, failure, and other negative impacts.
We offer a wide variety of hose fittings and accessories for your needs, including:
Hose clamps
Crimping sleeves
Hose ferrules
Hose protection sleeves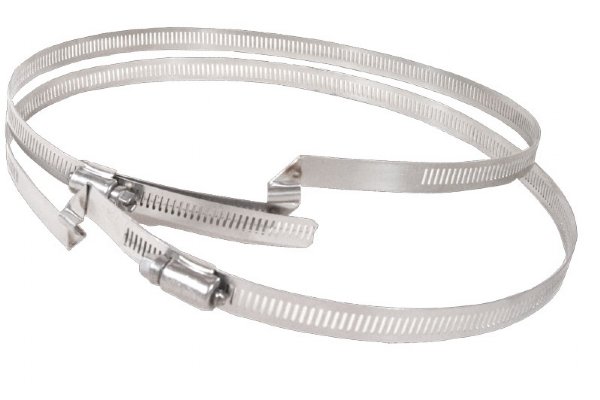 When it comes to choosing an industrial hose fitting attachment type, there are two basic options: clamping and crimping. Both of these use compression forces to seal the hose to the fitting. Clamps, also known as hose clips, can be removed at any time. They are tightened near the edge of the hose and the fitting. These are best used for temporary or reusable fittings in low pressure applications. Clamps can also be useful for maintaining placement of hoses and keeping them away from potentially damaging conditions, like hot equipment or corrosive liquids.
Crimping, on the other hand, is a more permanent hose assembly solution. This involves 360° of pressure on a crimping sleeve or ferrule. These are typically made of metal and are compressed with specialized crimping machines to very exact pressures. Crimping is primarily used for permanent fittings. Crimping offers superior seal for industrial hose and fittings, making it more reliable against leaks. It's also typically the best choice for high pressure applications.
Select the Right Hose Hardware
Hose assemblies need to be safe and reliable. We have the correct hardware for your industrial hose assembly, in stock and ready to ship. We are your single source for all your industrial hose needs. As a leading supplier for industrial hose products, we offer competitive pricing for customers throughout Texas, Louisiana, Arkansas, and Oklahoma.
When you need industrial hose accessories and fittings fast, call our team for immediate help. We have a huge inventory of necessary hardware that can ship out as soon as the same day you place an order.
If you're not sure what type of hose accessory you need, our team at J.W. Roberts Co. offers expertise to help you find the right fittings and accessories for your needs. We have industrial hose application experts on staff to help you find the right solutions for your hose assembly. We are always available, 24/7, to help for your urgent hose and fitting needs as well as to answer any questions you have.
Contact us now to learn more, find the right industrial hose accessories, and place an order.