Gaskets for Industrial Hose Applications
When you need high quality, reliable gaskets for your industrial hose applications, we have solutions for you. We supply a wide range of gaskets from world-class manufacturers like DONIT. Whether you need semi-metal gaskets, compressed sheet gaskets, or PTFE gasket options, we offer cost-effective pricing, fast delivery, and exceptional service to fit your requirements.
Industrial hose assemblies require gaskets to help provide sealing and leak protection. Gaskets help ensure a leak-free seal between connections. Choosing the wrong gasket for the job can result in frequent replacements and leaks that affect safety and operations. Instead, it's critical to find the right gaskets for the job.
Not every gasket is made the same. Not only do they vary in materials and sizing, but also in quality. That's why we work with only the best gasket manufacturers in the industry to provide guaranteed reliability and longevity.
If you're not sure exactly what type of gasket you need for your assembly, we offer industrial application expertise to help you find the ideal gasket for your application. There are a few points to think about when looking at different industrial gasket options.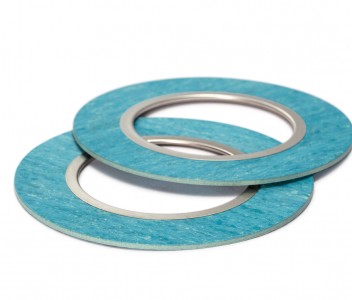 One of the first things to consider when choosing the right gasket for industrial hose applications is the temperature. Some gasket materials simply aren't compatible with extreme temperatures, making them impractical for some applications. In addition, pressure is another key factor for choosing the right gasket. Some gaskets, like many compressed sheet options are better for low pressure applications, while PTFE or spiral wound gaskets can stand up to higher pressures. Finally, let's not forget chemical compatibility. Many gaskets aren't cut out for certain chemicals.
Some of the gaskets we supply include:
Compressed sheet
PTFE
Spiral wound
Finding the Right Gasket for Industrial Hose Assemblies
No matter the industry or application, we have industrial-grade gaskets in stock and ready to ship from our warehouse! We pride ourselves on providing high quality products and fast delivery times.
We keep a large inventory of industrial gaskets and associated products in our large, 74,000 ft2 warehouse. This allows us to ship products quickly for all your needs. We are proud to serve clients throughout Texas, Louisiana, Arkansas, and Oklahoma with industrial hoses, hose accessories, gaskets, and more.
Our industrial hose experts also offer guidance to find the right sealing solutions for you. We have a large depth of knowledge about different industries, applications, hoses, and gaskets. We are confident we can help you find the ideal gasket for your requirements. Simply reach out and one of our experts will discuss your application and talk you through the options to help you find the right product for your needs.
Contact us now to get gasket selection assistance and order industrial gaskets for your industrial hose applications.