Rubber Covered PTFE Hose for Industrial Hose Use
Finding the perfect industrial hose is easy with our large inventory and team of experts. We offer the highest quality hoses from leading manufacturers. When you need rubber covered PTFE hoses, we offer affordable prices, convenient service, and quick delivery.
Polytetrafluoroethylene, or PTFE, is incredibly resistant to corrosive, caustic chemicals, stress cracks, permeability, and more. As such, it's one of the most common types of hose for industrial and chemical applications. Rubber covered PTFE hoses boast many unique characteristics and qualities that can make them ideal for your application.
Rubber coverings for PTFE hose products offer some key benefits, such as being lighter weight and more flexible compared to many braided hose coverings. These coverings help protect the PTFE inner layer to reduce wear and tear and increase longevity. In addition, these can be ordered in a wide variety of colors for color coding and even allow for printing on the exterior surface for labelling of many different kinds.
Another advantage of choosing rubber covered PTFE hoses is that they are easy to handle and clean. The smooth exterior means operators can safely handle the hoses without fears of scrapes and other minor injuries on their hands. Also, rubber coverings on PTFE hoses are simple to wipe down and clean, making them perfect for many sanitary applications, such as food handling, pharmaceuticals, and more.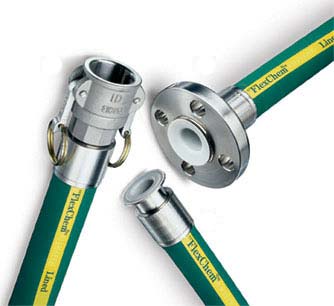 Rubber covered PTFE hoses are found in many commercial and industrial applications. In addition to offering food-grade and pharmaceutical-grade hose options, they also meet requirements for many chemical transfer applications. They stand up to solvents, caustics, and more and offer long life cycles for durability, safety, and cost-effectiveness. Rubber covered PTFE hoses from our manufacturers also offer full vacuum capabilities, making them multi-functional for suction, discharge, and transfer operations.
We are leading industrial hose supply and provide products from world-class hose manufacturers, including PureFlex, NovaFlex, Pacific Echo, and more. We are committed to providing high quality products for a wide range of industrial uses. We maintain a large inventory of industrial hoses to suit your needs and ensure you have the safest, most reliable solutions available.
When you need industrial hose fast, we are here for you. We supply hose and hose accessories to organizations throughout Texas, Louisiana, Arkansas, and Oklahoma. Our warehouse boasts a huge stock and selection of hose, including specialty PTFE hoses for heavy-duty industrial applications. Our team offers rapid response to get your orders to you quickly.
Not sure which hose you need? Whether you're just unsure of the part number or need expertise to decide on which hose is right for your application, we are here to help. Our experts are available 24 hours a day, 7 days a week. We can discuss your application with you and offer recommendations for sizing, material, composition, and much more. We are here to help you find the best industrial hose solutions for your needs.
Call us today for more information or to speak with one of our industrial hose application experts. We will be able to find a product that will fit your commercial or industrial application.