Smooth Bore PTFE Hose for Industrial Hose Applications
Need precise flow control from your PTFE hose? Smooth bore hoses made from Teflon offer serious durability and optimized fluid, gas, and solids transfer. We offer smooth bore PTFE hoses from recognized names like PureFlex and Pacific Echo for quick shipment to your facility.
Smooth bore PTFE hoses offer a low friction, non-stick, self-cleaning option for industrial hoses. Made from PTFE, these hoses can stand up to harsh chemicals and extreme temperatures and offer low permeability for potentially hazardous substances. Smooth bore PTFE hoses come in a wide range of options, including different sizes, wall thicknesses, and outer coverings like stainless steel or bronze braided shells. Because PTFE is a strong material, these hoses have an excellent shelf life and resist deterioration from aging and wear and tear.
Smooth bore industrial hoses feature a smooth tube inside, which allows for superior drainability and flow control. These hoses generally come in smaller sizes and have lower minimum bend radii compared to corrugated options.
Smooth bore PTFE hoses are suitable for many different applications, particularly those that deal with lower pressures. You can find these hoses in food production, agriculture, laboratories, and pharmaceutical applications, to name just a few. Smooth bore hoses can also be reinforced to resist vacuum pressure, so they can be great for both suction and discharge applications.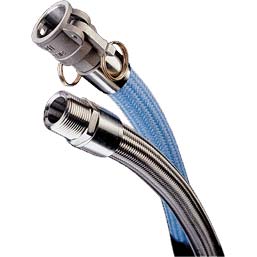 Find the Ideal Industrial Hose
For even the most challenging industrial hose applications, we have an answer for you in our warehouse. We maintain a large inventory of industrial hoses of all types, sizes, materials, and ratings. As a wholesale distributor of industrial hose, we are proud to represent some of the biggest names in the industry to provide the highest quality hose products for your needs. We guarantee we can find industrial hose options suited to your needs.
Our team at J.W. Roberts Co. serves clients throughout Texas, Louisiana, Arkansas, and Oklahoma. We maintain stock of heavy-duty industrial hoses to provide quick shipment and delivery when you need industrial hose solutions. Whether you need PTFE hose products or accessories like gaskets, we can provide cost-effective options and great delivery timelines. We are also available 24/7 to take care of urgent hose orders for critical applications and equipment.
If you're not sure what type of hose you need, our application experts are here to help. We can help you decide on the right type of hose to help ensure your hoses are long-lasting, durable, and cost-effective for your application. Get peace of mind for industrial hose reliability, cost, and safety when you work with us for all your hose supply needs.
Our team is standing by to answer your questions and help you decide which hose is needed for your job. Call us to talk to our experts and place an order today.