Industrial PVC Hose - Wholesale Distributor
Get high quality industrial PVC hose products for your application. We keep a large stock of a variety of PVC hose from the most trusted brands in the world, including Pacific Echo, AmFlex, and Sun Flow. We offer fast delivery and competitive prices on industrial hoses that fit your requirements.
Polyvinyl chloride, referred to as PVC, is a common plastic product that is used in many types of industrial, building construction, and other manufacturing projects. PVC boasts several unique properties that make it ideal for many different uses and applications. PVC is inexpensive, durable, and can be both rigid and flexible, making it a great option for industrial hose.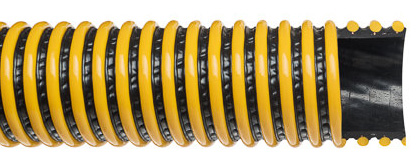 Industrial PVC hoses can be used to transfer a multitude of materials, including food, air, water, medicines, and much more. In fact, PVC is one of the most versatile types of industrial hoses because it resists chemicals, corrosion, erosion, weathering, and more. Industrial PVC hose can be used in suction, transfer, and discharge applications. These hoses are extremely durable but can deteriorate with high temperatures and exposure to fuels like oil and gas. Therefore, other types of hoses would be better suited for applications transferring fuels or including high temperatures.
Industrial PVC hose is used in many different industries for transporting liquids, gases, and solids. PVC is odorless, tasteless, and non-toxic, as well as easy to clean and sanitize. Therefore, it's frequently found in the agricultural and food processing industry. In addition, it's also frequently found in the chemical industry because of its ability to resist corrosion and many chemical reactions. Industrial PVC hose may just be one of the most versatile types of hose available on the market today.
Find PVC Industrial Hoses from J.W. Roberts Co.
When you need industrial PVC hose, we are here to help you find the right products for your needs. As a trusted industrial hose supply, we have a large inventory of the highest quality PVC hose and tubing for your needs. We ship hose and hose accessories all over Texas, Louisiana, Arkansas, and Oklahoma. Because we warehouse industrial hose products in our large facility, we offer fast delivery times for industrial hose products.
Our team also offers expertise to help find the right hose for your requirements. Tell us about your needs and application and we can help you choose the right hose for the job. Our experts can help you determine materials, sizes, and more for your industrial hose needs. As a leading distributor of industrial PVC hose, we have solutions to suit your application.
When you work with our specialists at J.W. Roberts Co., you get outstanding service. We are dedicated to finding the ideal products for your needs. We are proud to carry high quality industrial hose products for reliability, longevity, and durability. Whether you need suction, discharge, or transfer hoses, we have options that meet your needs.
Contact us now to purchase industrial hose, tubing, and hose accessories for your industrial or commercial application.