PTFE Hose for Industrial Hose Applications
When you need heavy-duty PTFE hose for your industrial applications, we have solutions for you. We supply high quality hose and hose accessory products, including PTFE options from top manufacturers like PureFlex, NovaFlex, and more. We offer quick delivery times, affordable pricing, and a consultative approach to help you find products that fit your requirements.
PTFE stands for polytetrafluoroethylene. PTFE is also known by its brand name Teflon, which you can find in your day-to-day life such as in non-stick cookware, water-resistant fabrics, and more. PTFE is also a common material for industrial hoses. PTFE is ideal for industrial hose material because it doesn't break down with exposure to corrosive acids or hot temperatures. It also does not dissolve with exposure to solvents or become fragile when exposed to extreme cold, including cryogenic temperatures down to -240°C. As a stable polymer with a slippery feel, it's the perfect material to transfer products, whether liquid or solid. PTFE hoses are incredibly tough and durable to stand up to even the harshest conditions. We also offer PTFE hose products fully compliant with the Chlorine Institute's Pamphlet 6 for transporting dry chlorine.
PTFE hose comes in a wide range of options to suit your needs, including:
Smooth Bore
Convoluted Stainless Steel Braided
Rubber Covered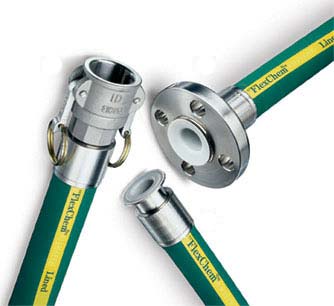 PTFE hoses are versatile to suit a wide range of needs. Some common applications include transporting compressed gas, fuel, chemicals, and steam. You can also find these industrial hoses in pharmaceutical, power generation, and automotive industries as suction, transfer, and discharge hoses.
Industrial PTFE hoses offer longer life cycles, which makes them a cost-effective option for many organizations. PTFE hoses age well, resist wear, and generally offer higher durability than many other types of hoses.
Find PTFE Hose Solutions with J.W. Roberts Co.
If you're looking for high performance PTFE hoses, we have options for you. At J.W. Roberts Co., we keep a large stock of industrial hoses in our warehouse to provide immediate solutions and fast shipping for our customers throughout Texas, Louisiana, Arkansas, and Oklahoma. We are a preeminent industrial hose supplier with years of experience in the industry.
Our experienced consultants can help you find the right hose for your needs. We can help you determine whether you need smooth bore or corrugated PTFE hoses, rubber covered or stainless steel braided, or even simple PTFE tubing for your application. We are more than just a supplier, we are problem-solvers dedicated to getting you the perfect industrial hose for your needs. When you need the best quality hoses and excellent customer service, we are here for you. We're available 24/7 to provide you with industrial PTFE hose solutions day or night. Whether you have a midnight emergency and need to replace a hose fast or are looking at options to optimize hose life cycles, we offer the expertise you need for successful operations.
Call our team today, for all of your PTFE hose needs and to speak to an industrial hose application expert.