Industrial Breakaway Hose Couplings for Industrial Hose Applications
For added safety for industrial hose applications, we offer high quality breakaway hose couplings from world-class manufacturers. We are experts in industrial hose assemblies and applications and can help you find the right coupling for the job. Couplings from us help give peace of mind for operational safety and efficiency.
Breakaway hose couplings are safety couplings to help prevent driveaway and pull away accidents. These couplings are designed to separate before forces become high enough to cause accidents like hose breakage. Most safety breakaway couplings feature automatic closures. When the couplings reach a certain stress point, the two halves of the coupling break apart while at the same time the internal valves close on both sides to prevent spills and leakage.
Safety breakaway couplings are popular for transferring materials that may be hazardous for humans or the environment and are commonly found in chemical transfer, oil and gas transfer, and many other applications. Where spillage does not pose serious hazards, such as clean water transferring, non-closure breakaway couplings are available as a more economical option.
Breakaway couplings typically use one of two mechanisms to cause coupling separation. Break bolt or break stud couplings utilize bolts designed to break under a specified force. On couplings connecting two industrial hoses, the break bolts typically separate with straight pull forces. For couplings connecting a fixed point with an industrial hose, typically the break bolts will separate with angular forces up to a 90° angle.
By contrast, breakaway couplings can also utilize cable release mechanisms. These are preferred when break bolts require more pressure for separation than is safe for the application. Cable-release breakaway couplings offer separation at lower forces. These couplings are held together by internal cables instead of by bolts, which then break at specified forces.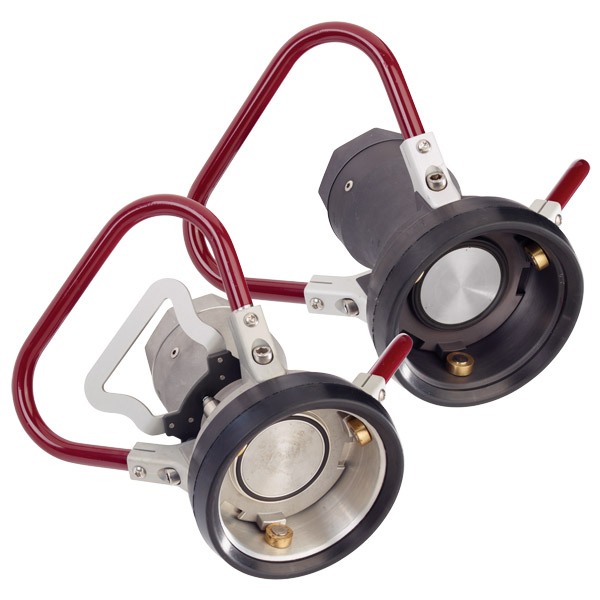 Why choose breakaway hose couplings:
Reliable Operation: The simple design of the coupling ensures reliable operation in even the most demanding of environments.
Very Low Loss: Positive shut-off of both coupling halves results in minimum product loss.
Proven Design: Supplied to blue-chip companies throughout the world.
Break Load Individually Calculated: Computer modeling of your particular application results in a reliable determination of break load.
Manufactured to the Highest Quality: Quality control system approved to ISO9001. All parts have full traceability.
Industrial Hose Couplings from J.W. Roberts Co.
When you need hose couplings, we have solutions for your needs. J.W. Roberts Co. warehouses and distributes many different kinds of breakaway couplings for industrial applications. A majority of the couplings we carry are produced by Alpha Process Controls, the premier manufacturer of safety breakaway couplings. We are proud to serve customers throughout Texas, Louisiana, Arkansas, and Oklahoma by providing superior industrial hose products for heavy-duty service.
Our team can help identify which coupling is right for your application. Just reach out to discuss your needs with our industrial hose application specialists and we can help you find the most practical and cost-effective hose coupling product.
Because we maintain a large inventory in our warehouse, we offer quick delivery timelines for all our products, including high quality breakaway hose couplings. In some cases, we can even ship out your order the very same day for seriously fast delivery.
Contact us now to find the right hose coupling for your assembly.