Industrial Metal Hose – Industrial Hose Supply
When you need industrial metal hose for the harshest applications, we have the high quality products you need. We supply a wide range of industrial hose products from trusted manufacturers, including Hose Master. We provide metal hose solutions fully suited for your needs.
Industrial metal hoses are ideal for heavy-duty applications. They can stand up to harsh chemicals, extreme temperatures, and high pressures. They are weather-resistant and not susceptible to permeation. This makes them incredibly safe for many applications. We also offer metal hose options that meet the strict standards in the latest edition of the Chlorine Institute's Pamphlet 6 for safe chlorine transfer.
In addition, you can also use metal hoses for a wide variety of applications, including for suction, discharge, and transfer. Industrial metal hose is frequently used in chemical plants, natural gas transportation, and the petroleum industry because of its strength, durability, and safety ratings. They are also less likely to experience catastrophic failure, often showing small pin holes or minor cracks well before conditions risk bursting or complete failure.
Metal hoses are commonly made of stainless steel, though they may also have a core of galvanized steel or bronze. Manufacturers also frequently use specialty alloys for specific applications. Industrial metal hoses are corrugated or stripwound for flexibility. Corrugated metal hoses feature folds in the metal to allow the hose to bend. Stripwound industrial metal hose is made of a single strip of metal wound in overlapping patterns to provide flexibility. Corrugated, also known as convoluted, metal hoses work well for liquid and gas transfer applications, while stripwound products are often more suited for dry goods handling and open-ended exhaust hoses.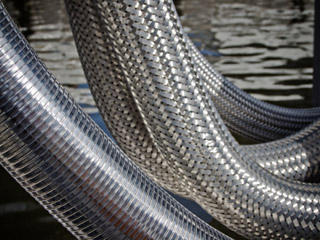 Find Industrial Strength Metal Hoses
At J.W. Roberts Co., we carry a complete line of industrial metal hoses in many different sizes, composites, and structures. We keep a large inventory of industrial metal hose in our warehouse ready for shipment as soon as you place your order with our team. Get fast, quality industrial hose solutions throughout Texas, Louisiana, Arkansas, and Oklahoma from our experts.
If you're not sure exactly which type of metal hose is right for your application, we are here to help. We have experts on hand that can help determine the type of hose and specifications needed for the job. We take a consultative approach to find hose products that offer the most value, safety, and reliability for your needs.
For superior service, affordable prices, fast delivery, and the highest quality hose and hose accessory products, we are your number one source for all your industrial hose needs.
Contact us today for more information on how our team can help arm you with the correct type of industrial metal hose for your requirements.