Industrial Hose Couplings for Industrial Hose Application
Choosing hose couplings is an important part of designing an industrial hose assembly. We offer a large inventory of couplings and related hose accessories to choose from to help meet your application's needs. We supply couplings and industrial hose products from world-class manufacturers including Alpha Process Controls, NovaFlex, and PureFlex. Our goal is to help you find suitable couplings for your connection needs.
Couplings are essential for successful industrial hose assemblies. These components help connect industrial hoses with other hoses, fittings, and other components of the pumping or material transfer system. Just like any other part of your industrial hose system, it's important to choose couplings specifically for your application. Understanding temperatures, pressures, chemicals, and other aspects of the application can help you choose the right hose coupling for your needs.
We offer a wide range of couplings for a variety of purposes. Whether you need basic couplings or no-spill options, we have solutions for you. Our team offers industrial hose application expertise to help identify the right coupling product for your assembly. All you have to do is walk us through the particulars of your application and we can recommend a coupling that offers reliability and longevity for your requirements. We are dedicated to providing superior service to our customers throughout Texas, Louisiana, Arkansas, and Oklahoma. Our experts are here to ensure you get the right industrial hose coupling for the job.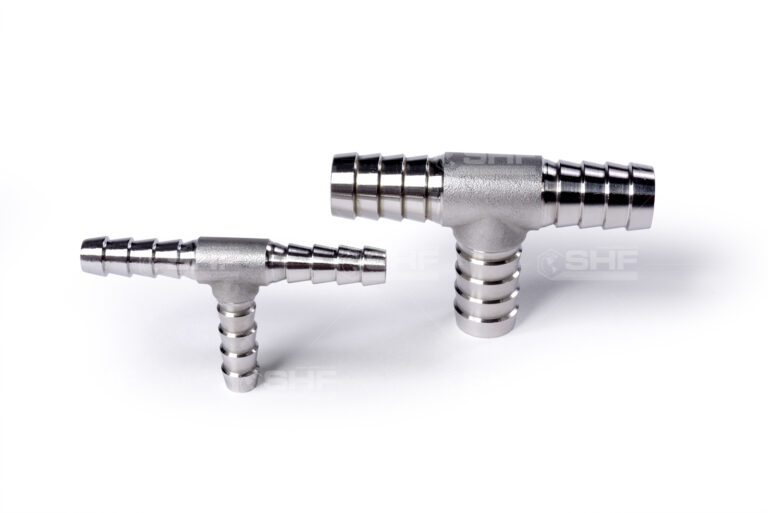 Safety Couplings for Industrial Hose Assemblies
When spillage is unacceptable, it's vital to choose safety couplings that are rated for industrial use. We offer several options of couplings, including dry break and breakaway products.
Dry break couplings offer the ultimate reliability for zero spills or leaks. These feature a valve that must be closed before the coupling allows for disconnection. Simply twist the coupling to seal the hose and pull to separate the two coupling halves. These are ideal for material transferring for hazardous materials that can pose a threat to health or the environment. They also help reduce any product loss that can result in huge losses to income.
Safety breakaway couplings offer another option for reducing leaks during disconnection. These industrial hose couplings utilize internal bolts or cables that break under specific forces. Most breakaway couplings automatically initiate valve closure when they break away to reduce material loss. They are crucial for preventing spillage during emergency incidents such as drive aways or pull aways.
No matter your industrial hose coupling needs, we have solutions for you. We have a large inventory of industrial couplings from top names in our warehouse facility. Our team can help you select the right hose coupling for your assembly. Then, we ship your order quickly to ensure you receive it as fast as possible. We are proud to offer quick delivery, competitive pricing, and customized service for all your industrial hose applications.
Contact us now to discuss industrial hose couplings with our experts at J.W. Roberts Co. and place your order.