Compressed Sheet Gaskets | Industrial Hose Applications
We supply high quality gaskets for industrial hose applications from the world's finest manufacturers, including DONIT gaskets. Our experts are here to help you find the right sealing solutions for your requirements to provide a leak-tight seal. When you need cost-effective, practical, and high quality industrial gaskets, we have products for you.
Compressed sheet gaskets, also known as gasket sheets or gasket paper, are an incredibly economical option for many types of applications. Gasket sheets can be found in a wide range of materials, including graphite, mica, rubbers, thermoplastics, as well as compressed fibers.
Compressed fiber gasket sheets mix fibers with elastomers to create a good seal. Fibers include mineral fibers, carbon fibers, and synthetic fibers like aramid. The elastomers are typically rubber, whether natural or synthetic. They can also be mixed with wire mesh for additional reinforcement and resistance against high pressures.
Finding the right type of compressed sheet gasket depends on knowing your application thoroughly. Knowing the temperatures, pressures, and chemicals involved is crucial for choosing a gasket material that will offer a tight and long-lasting seal between hose components, flanges, and more.
Custom gaskets are cut or punched out of compressed sheets to fit the proper shape and size. Compressed sheet gaskets are flexible and allow for easy installation and handling. They are an inexpensive choice for many different purposes, including for water, food, chemicals, gas, and other materials.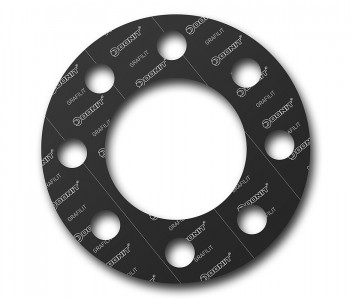 Get Industrial Hose Gaskets from J.W. Roberts Co.
Finding the right gasket for your industrial hose application is critical for ensuring safe, effective, and economical operation. We supply high quality compressed fiber sheet gaskets for organizations throughout Texas, Louisiana, Arkansas, and Oklahoma. With decades of experience in the industry, we are proud to offer total solutions for your industrial hose applications. We are a wholesale distributor for premium gaskets, hoses, and hose equipment.
When you work with our team for your sealing needs, we offer competitive pricing on products from top brands. Our goal is to provide our industrial customers with first-rate products, from hoses to gaskets.
When you order gaskets from our team at J.W. Roberts Co., you receive your order fast. We maintain a large stock of compressed sheet gaskets and other products in our warehouse. Your gaskets can even ship out the same day as your order, so you receive them as soon as possible. We are the number one choice for quick, quality solutions for industrial hose applications.
When you're unsure which type of gasket you need, we have experts on staff to help you find the right options. Our specialists offer years of expertise for industrial hose assemblies to help you find the ideal products for your needs. Whether you need help finding the right compressed fiber gasket sheet or need a different type of gasket altogether, we are here to provide consultant-level service. You can count on us to find the right industrial gaskets for your requirements.
Contact us now to order gaskets or talk to one of our application experts.