PTFE Gaskets for Industrial Hose Applications
When you need a high quality seal for industrial hose applications, our team has solutions for you. We supply industrial gaskets from leading manufacturers like DONIT. We are proud to offer excellent service, high quality products, affordable prices, and fast delivery timelines for all your gasket needs, including PTFE gaskets ideal for chemical, food, pharmaceutical, and other applications.
PTFE is a high performance thermoplastic called polytetrafluoroethylene. This material is similar to rubbers, but with capabilities to withstand higher temperatures and higher pressures. It is also incredibly resistant to many different chemicals. It doesn't corrode or leach even under severe service applications. This makes it a great material for industrial gaskets.
PTFE gaskets can come in both gasket sheets and molded gasket options. They can be made of pure PTFE or mixed with fillers for added strength. They are an incredibly durable industrial gasket option, as they are tougher than traditional plastics and rubbers, yet are still elastic enough for easy handling and installation, though it is typically more rigid than rubbers. PTFE is better for higher temperatures and pressures than rubber gaskets.
PTFE gaskets are also commonly used in a wide range of chemical hose applications because it provides a leak-tight seal and resists deterioration even with some of the harshest chemicals. PTFE is also an FDA approved material, which means PTFE gaskets are commonly found in food processing and pharmaceutical applications.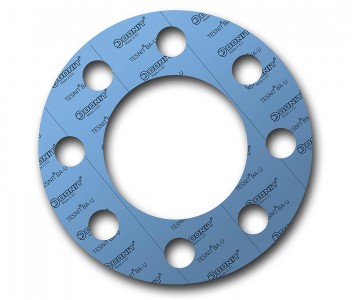 High Quality Industrial Gaskets from J.W. Roberts Co.
Finding high quality PTFE gaskets is simple when you work with our team. We supply a wide range of products, including industrial hoses and industrial gaskets to suit your needs. As a leading distributor for premium products, we offer some of the highest quality sealing solutions around for your industrial hose applications.
In addition to providing you with superior quality gaskets, we also offer competitive pricing. We understand the need for cost-effective gasket products, which is why you can find PTFE gaskets from our team at economical prices.
We pride ourselves on offering outstanding service for our customers throughout Texas, Louisiana, Arkansas, and Oklahoma. Whether you know exactly what you need and simply need it delivered ASAP to your facility or need help finding the right solutions for your requirements, we are here to help. Our team includes application specialists to assist with finding the right gaskets and products for your needs, whether you're looking for PTFE gaskets or something more specialized.
Once you place an order, you can also count on us for fast delivery. We maintain a large inventory in our warehouse to allow for fast order processing and shipping. You can trust us to have your gaskets and other products to you quickly, whether you're working on new construction of industrial hose assemblies or need a replacement for failed gaskets.
Contact us now to discuss your gasket needs with our team and order PTFE gaskets.